Azalea Hill Gardens & Nursery specializes in new and different azaleas. We have been growing these beautiful plants since the early 1970s. Originally a hobby, we decided to grow azaleas for others as well as ourselves.

We can be reached at 870 489 0884. Text us if you can.We can also be reached via email at ronnie.palmer88@yahoo.com. We look forward to hearing from you.

If you are not familiar with our company and your first contact with us is online: We would be pleased to hear from you! Please let us know what your needs and questions are, we will be more than happy to help.

Our business was established in 1971 and had been responsible for providing outstanding azaleas ever since. Our specialty is rare and unusual plants. We are located at 1106 South Evans Road, White Hall, Arkansas 71602.

The cultvars which we grow are Kurume Azaleas, Glenn Dale Azaleas,Backacre Azaleas, Linwood Hardy Azaleas, Huang Azaleas, Holly Springs, James Harris Azaleas, Robin Hill Azaleas,Robert Stewart and Japanese Satsuki Azaleas. We also are growing many of the numbered Gartrell Azaleas. All of the azaleas listed in this paragraph are evergreen azaleas.

How to Find Us

We are located 34 miles south of Little Rock, Arkansas. From Little Rock, take Interstate highway 530 to exit 34. Then, go northwest on US 270 for 1.4 miles.Turn left onto Evans Road at an orange block building currently housing Dave's Fireworks. The map below is a a liittle hard to read, so try one of the internet map services. The address is 1106 South Evans Road, White Hall, Arkansas 71602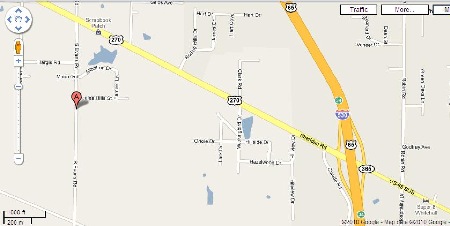 New paragraph